Regional Director's Welcome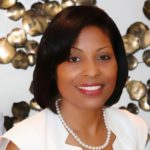 Dear Mothers of the Sweet, Sweet Southeastern Region,
On behalf of the entire Regional Leadership Team, I welcome you to the 2020-2021 program year. It is an honor and privilege to serve our mothers and families. Thank you for the vote of confidence in us! We are committed to you and your families.
Our theme is: Empowering All Children with Passion, Purpose, and Pride. Our team is passionate and committed to building upon the success of those who have come before us. Therefore, we will provide enriching and engaging experiences for our children, mothers, and fathers. We have a few new and exciting regional appointments that allow us to meet the growth demands occurring in our region.
When it comes to programming, we know it is the heartbeat of Jack and Jill. Purposeful programming is what we will deliver to our children. The Regional Program Chairs are prepared to share some new programs this year, such as the Gavel Club, Mentor Program, and others, which will offer our children and teens unique and memorable programming experiences. Also, our Lead Teen Sponsors (LTS) will have a dedicated Liaison who will work to ensure our LTS's will receive proper training, guidance, and resources they need to have a successful program year. The LTS Liaison will host monthly conference calls with the LTS's beginning in October. We encourage and challenge all chapters within the Southeastern Region to aim for Five stars when it comes to programming. Our children and teens deserve our very best programming efforts and our Regional Programming Team, along with the Regional Leadership Team, is here to help you meet this deliverable.
We are excited to announce the Sweet SER Gazette. It is our regional newsletter to be published by the 15th of the month. There will be several methods of communication utilized to keep you in the loop as we are in the process of updating our region's website. Also, the social media team will be working on additional media outlets, teleconferences, webinars, and Mothers' Workday.
Mothers, we are better together! In closing, we are here to serve you and are looking forward to an exceptional programming year.
For the children,
Latrecia Jordan
27th Southeastern Regional Director
Jack and Jill of America, Inc.
Website: http://seregion.jackandjillonline.org/
Regional Executive Board
Meet the rest of our Southeastern Region board members.
Find a Chapter
Select a State to find a Jack and Jill Chapter near you.