Since Jack and Jill of America, Inc., was founded in 1938, it has evolved into a strong national organization as a result of strong programming. Our founder, Marion Stubbs Thomas, had a simple idea of bringing together children in social and cultural relationships, and this idea avalanched into a strong national organization. Our story of growth is one of amity and felicity. As new members were welcomed and new chapters are formed, the aims and ideals of Jack and Jill have strengthened, always with our children and civic service as the focal points.
Youth Leadership Programs
One of the hallmarks of Jack and Jill is its emphasis on youth development with our youth leadership programs. Whether it is through skill enhancement, financial literacy or volunteer opportunities, this organization has become a national model for creating effective programs. Jack and Jill has taken ownership in responsibility for developing future leaders who possess the skills to be world leaders.
Teen Leadership Development
The Jacqueline Moore Bowles Leadership Module is comprised of 16 modules providing the necessary skills required to effectively lead in a constantly changing society.
Volunteer Service
Annually, Jack and Jill members and their families log thousands of hours of volunteer service. Both members and children support and participate in efforts such as annual walks, marathons, beautification projects, youth mentoring and other initiatives focused on making a difference in the communities they serve.
Financial Literacy
It is important that youth learn fiscal responsibility at an early age. Jack and Jill's financial literacy modules offer youth ages 6-19 an opportunity to participate in mock stock market simulations, basic financial training and real-world approaches in learning the principles of responsible money management firsthand.
Civic Involvement
We represent more than 40,000 family members, and more than 10,000 members who serve their communities in 37 states and the District of Columbia. We work in a variety of capacities to include stay-at-home mothers, teachers, lawyers, doctors, ministers and leaders of industry with the belief that we can make a difference in the lives of children and families. We serve to make a change, actively engaging with our national and local partners.
Legislative Advocacy
Since our inception, we have been committed to legislation aimed at bettering the lives of all children. Past and present legislative advocacy focus has been on violence in the media, health and wellness initiatives, voter registration, responsible gun laws, and equal access to quality education. Biennially, Jack and Jill Teens and Mothers participate in the On the Hill Summit in Washington, D.C., creating awareness among Congressional leaders about our mission and issues that affect American children and their families.
Programmatic Thrust
Chapter Programming is the "heart" of the organization. It is the way that we "create a medium of contact for children that stimulates growth and development." The national programming mandate for chapters requires that at least one activity (in each grade group) be accomplished centered on the National Program Thrusts under EDUCATION, CULTURAL, CIVIC, SOCIAL/RECREATIONAL, and HEALTH.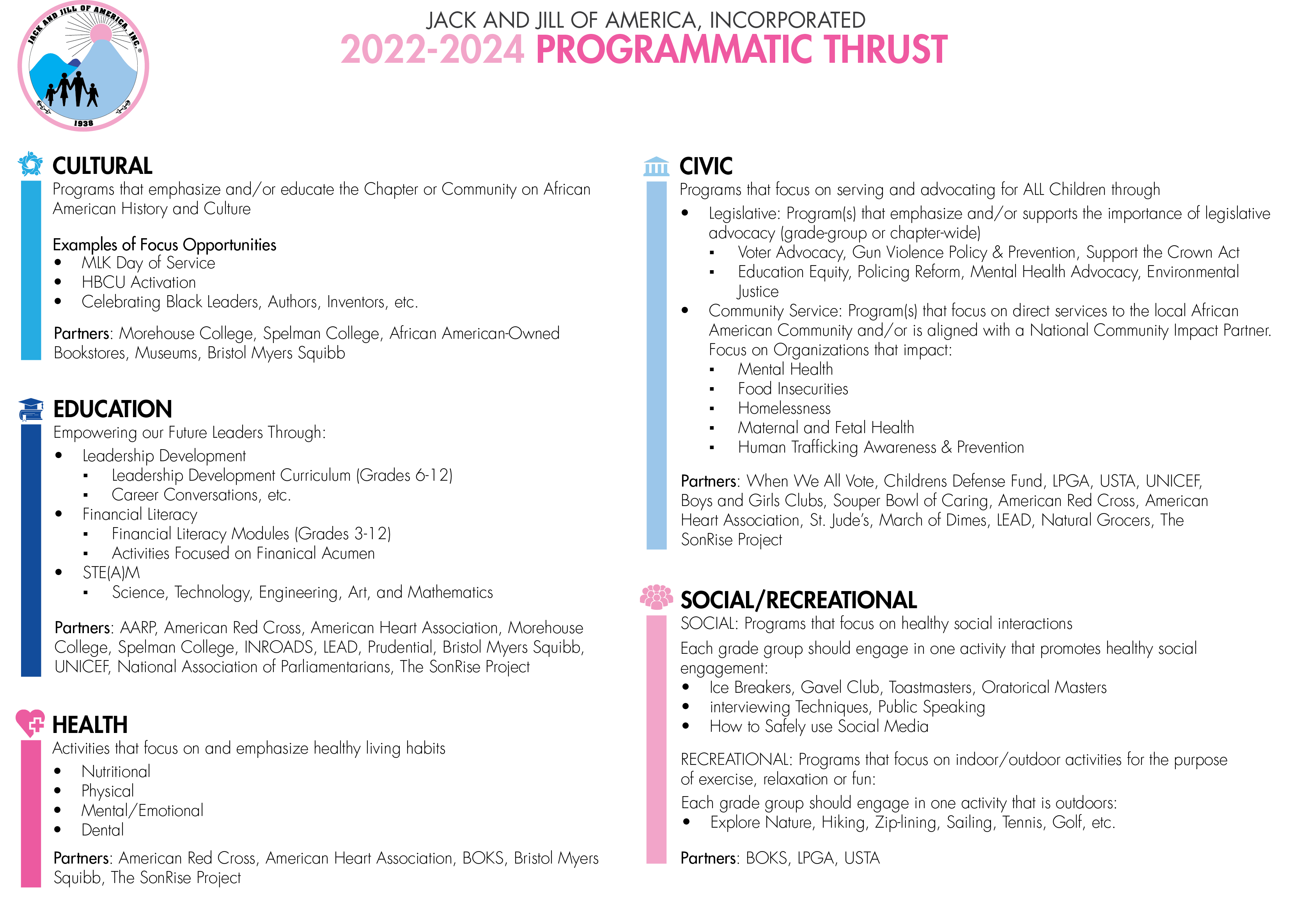 What do we do to explore our history?

MLK Day of Service
Engagement with HBCUs
JJOA Bedtime Stories and Reading Corners come to life
Celebrating Black Leaders, Authors, Inventors, etc.

What do we do to educate ourselves?

Leadership Development

Leadership Development Curriculum
Financial Modules

College and Career Readiness
Career Conversations – Exploring the Possibilities!
STE[A]M Webinars for children, teens and moms

What are our healthy living focuses?

Creating healthy habits from childhood to adulthood:

Nutritional
Physical
Dental

Mental/Emotional Health

What do we do to advocate for change?

Legislative Advocacy Programs
Voter Registration and Voting
Serving Our Communities

Mental Health
Food Insecurities
Homelessness
Maternal and Fetal Health
Human Trafficking Awareness and Prevention
2019 On the Hill Summit
The 7th Biennial "On the Hill" Legislative Summit was held in Washington, DC, September 25-29, 2019. Members and teens from 247 chapters representing 33 U.S. states conducted 252 congressional meetings during Jack and Jill of America, Inc.'s (JJOA). JJOA kicked-off the conference with a Legislative Advocacy Day at the U.S. Capitol with 1000 of its teen delegates holding 66 meetings with the U.S. Senate and 186 with the U.S. House of Representatives. On Sept. 26, JJOA teens met with 147 Democrats and 103 Republicans to say "The Time is Now" to act on key legislative issues: Voter Registration; Equity in Education; and Gun Violence Prevention and Safety.
On The Hill 2019 Photo Slideshow
Members and teens from over 200 chapters representing 33 U.S. states came together in the nation's capital to advocate for voter registration, equity in education, and gun violence prevention during the 2019 On The Hill Legislative Summit
Scope
We invite you to view SCOPE, our annual publication highlighting our extraordinary programs that embody our theme of "The Power to Make a Difference." Since 1953, SCOPE has told the stories of our work in the communities we serve while staying true to our mission of nurturing future African American leaders by strengthening children through leadership development, volunteer service, philanthropic giving and civic duty.
Bedtime Stories
As part of Jack and Jill's Cultural Heritage programming thrust, the Bedtime Stories series was introduced to support our commitment to Early Childhood Literacy. The stories are read online in a webinar forum by African American authors for an intended audience of pre-kindergarten through third-grade children. Through this initiative we hope to engage children, promote self-esteem, support the development of their language and reading skills and simply be FUN!
The format allows for children to ask the authors questions about the stories and interact on a national level. Jack and Jill currently partners with several other organizations in presenting the stories, and we work closely with local children's community centers to distribute the titles in an effort to promote literacy in ALL communities.
At the 2016 National Convention in Palm Desert, CA, Jack and Jill unveiled "The Super Chronicles" by the children of Jack and Jill of America. This special edition book is a collection of stories and illustrations from our youth nation-wide.
Are you an author interested in participating in our Bedtime Stories initiative?