MOMentous Membership MOMents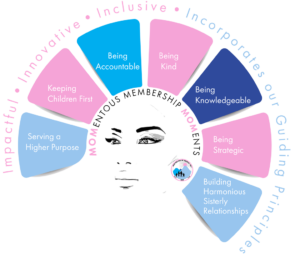 NOVEMBER 2021
The National Membership Committee has finalized the honorees for the MOMentous Membership MOMents Recognition Program for January 1, 2021 – May 31, 2021. Congratulations to the mother members who received national recognition for creating momentous membership moments during this second half of the 2020-2021 program year:
EASTERN  Nickole Sharp
FAR WEST   Misha Dunford
MID-ATLANTIC  Treena Bonner
MID-WESTERN  Felicia Williams
SOUTH CENTRAL  Sarita Dillard
SOUTHEASTERN  Leila Clay
AWARDEES
[Click images to enlarge]
HONORABLE MENTIONS
MID-WESTERN REGION Halle Jones Capers (Akron Chapter)
Mother Halle of the Akron Chapter stood in the gap for a Sister Mom who experienced a fire at her home. She jumped right in to bring calm and support to the family on the scene, illustrating perfectly what it means to be there for each other when needed most and the effect it has when we answer the call for each other. Kudos, Mom Halle, for your commitment to BEING KIND and SERVING A HIGHER PURPOSE!
SOUTHEASTERN REGION Tammy Hamlet (Tallahassee Chapter)
Tammy Hamlet, Immediate Past President of the Tallahassee Chapter, is the epitome of a Sister Mom. During the chapter's virtual meet & greet with prospective new members last spring, she managed to work the virtual room in true Tammy fashion and make everyone feel seen, heard, welcomed, and included. Her affectionate and affable manner always puts others at ease and enables everyone to have a great time, regardless of the setting. Her leadership reflects that we all are here to SERVE A HIGHER PURPOSE, and it all begins with BEING KIND to one another.
---
JUNE 2021
The National Membership Committee enjoyed reading the many inspiring nominations we received for the first round of the MOMentous Membership MOMents recognition program. Across the country, our mothers are putting our Guiding Principles in practice and using their time, talent, and treasures to elevate the membership experience of others. Please join us in congratulating the mother members who received national recognition for creating momentous membership moments during the first half of the 2020-2021 program year:
CENTRAL   Stephanie Walker Hynes
EASTERN  Kathryn Simmons
FAR WEST  Shacunda Rodgers
MID-ATLANTIC  Erin Slayton
MID-WESTERN  Letisha Thomas
SOUTHEASTERN  Lisa Ivory
AWARDEES
[Click images to enlarge]
---
APRIL 2022
As the members of your National Membership Committee, we truly have been inspired by all nominations we have received for the MOMentous Membership MOMents recognition program! Throughout the organization, we have mothers who have been selflessly and strategically putting our Guiding Principles into practice to uplift other members and keep everyone connected and engaged. Those mothers receiving recognition for standout momentous membership moments during the first half of the 2021-2022 program year include the following:
CENTRAL   Trina Payne Grier
EASTERN  Nicole Amber Smith
FAR WEST  Chloe Boutelle
MID-ATLANTIC  Kelly Robinson
MID-WESTERN  Mia Hardy
SOUTH CENTRAL  Erika Fadel
SOUTHEASTERN  Leslie Briscoe-Andrews
AWARDEES
[Click images to enlarge]