Regional Director's Welcome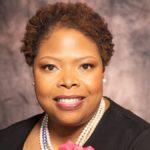 Welcome and thank you for visiting our section of the national website. I am Chanda Douglas-Ward and I am extremely proud to serve as the 22nd Mid-Atlantic Regional Director. The "Marvelous" Mid-Atlantic Region consists of 29 chapters representing over 200 families and 1,000 members. From the mountains to the coast, the foothills to the sandhills and all the beautiful terrain in between, we are proud of the steep heritage and history found in our great states of North and South Carolina, Virginia and West Virginia. Home to various Historically Black Colleges and Universities, our region takes pride in providing educational, cultural and leadership development opportunities for today's leaders and for future generations to come.
In 1938, Jack and Jill of America, Incorporated was created out of a vision to instill pride, promote confidence and build character in our children. It also served as a medium to provide tools and resources to grow successful leaders and contributors to society. During the 2017-2019 administration, the Marvelous Mid-Atlantic Region is planning to "Move 4WARD "and build on the outstanding programs and activities, that over time, have created and defined the premiere, nationally-recognized, African American family organization. Through faith, family, focus and fun, our mothers, fathers, teens and children are working, playing and living to enhance and empower our local communities and beyond. Our goals are to lead with faith; engage our families in a variety of programs, activities and events to promote unity; focus on operational and financial excellence; and, create an atmosphere that fosters fun.
On behalf of our Regional Executive Board, National Vice President Claudia Curtis, Regional Treasurer Tarcia Flemming, Regional Secretary Tomisha Gladman, and Regional Member-At-Large Nichelle Levy, we look forward to serving our region, delivering excellent programming and making an impact for all children. Join us as we "Move 4WARD" with the Power to Make a Difference!
For the Love of Jack and Jill,
Chanda Douglas Ward
22nd Mid-Atlantic Regional Director
Website: http://www.jjmidatlantic.org/
Regional Executive Board
Meet the rest of our Mid-Atlantic Region board members.
Find a Chapter
Select a State to find a Jack and Jill Chapter near you.